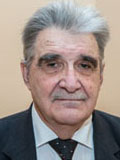 Fotiadi Alexander E.
Position

Professor

Affiliation

Peter the Great St. Petersburg Polytechnic University

Degree

Doctor of Physics and Mathematics

Russia, 195251, St.Petersburg, Polytechnicheskaya, 29

2-й учебный корпус

ауд. 408
Associate Editor. Dr Fotiadi is responsible for assessing the quality of manuscripts, assigning manuscripts to referees, preparing decisions for the Editorial Board.
Research interests: physical electronics, optics, condensed matter, semiconductors.